The P
DGA reports that there are about 2,000,000 regular players and probably many more occasional players, or those who have at least tried the game once. There are estimates that 10-15 million people in the USA  play the game for recreation every now and then. Estimates are just estimates that are deduced by some reasonable formula. Even so, these numbers could be higher. They are unlikely to be lower.
Historically, players have designed and developed disc golf courses, and hundreds of thousands of disc golfers have engaged within their communities to introduce the game to others. At the very least, all disc golfers take it upon themselves to be active ambassadors of the game. The growth of the game has been achieved through the efforts of many.  In diverse communities around the country, professional and casual players have passionately enlisted themselves in the mission of promoting and growing the game.
In the past 20-30 years, we have seen the birth of a new occupation: the disc golf course designer. This title can be claimed by anyone who wants to start designing. There is no formal education, but there are some workshops offered by us (HouckDesign) sporadically that anyone can take for a small fee. Attendees say the workshop is a very eye-opening experience, as it exposes how much needs to be considered in the design of a disc golf course. The workshop also exposes the need for a larger curriculum of education desired by and needed for disc golf course designers for the same reason.
A Parked.com survey1 indicates that approximately 2/3 of those who design or redesign courses have never been paid to design, and most of those who have ever constructed courses have never been paid to build them. This is the true spirit of a passionate disc golfer who has, through his/her own time, money, and other resources, labored to grow the game that he/she is so passionate about. While this has helped to grow the sport, it has also contributed to the confusion around what a disc golf course is and how design is achieved.  Now that more people are playing the game, achieving a design that is more sustainable is paramount for parks and recs. Experienced designers are being sought out, and disc golf is finally receiving the respect and attention that it deserves.
According to the 2018 State of Managed Recreation Industry Report1, disc golf is included in 13.6% of plans. It has now come into the TOP 10 included activities in the plans.
The top 10 planned features in that report, for all facility types include:
Splash play areas (23.6 percent of those with plans to add features will add splash play)
Synthetic turf sports fields (17 percent)
Fitness trails and outdoor fitness equipment (16.4 percent)
Fitness centers (16.3 percent)
Walking and hiking trails (15.5 percent)
Playgrounds (15.2 percent)
Park shelters (13.6 percent)
Dog parks (13.5 percent)
Exercise studios (12.9 percent)
Disc golf courses (12.9 percent)
While some senior designers have now started their own design companies and are getting paid to design, there are still many who do it for the "love of the game." In the ParkedDiscGolf.org survey, 62% of the respondents (members of the 3DiscGolf Facebook group) believe that parks simply don't have the money and are not willing or only slightly willing to fund disc golf. Yet, only 10% of this group stated this is because of the willingness of non-professionals to create designs according to the same survey. Most have bought into the belief that it's a lack of knowledge about disc golf or budget limitations that parks don't fund more disc golf design and development. Not so, according to some senior designers (3%), who claim parks are very willing to fund disc golf.
The types of courses that are going up vary immensely in quality of design and construction. While this allows more room for the growth of the game, it is also creating some confusion around what a disc golf course really is. Ideally, disc golf courses should now be given dedicated land in public parks, since the game's popularity is increasing usage in parks, and discs are flying farther than they used to. Some of the designs that were put in many years ago may only be good for beginners, as they were designed with beginners in mind when the game was still in its infancy and discs were not flying as far as they do now. Player skill has also evolved, and now even amateur players throw much farther. The older courses should be reviewed and in some cases, redesigned to bring the course up to date. They can be redesigned using modern concepts for sustainability on beginner courses or recreational courses.
Due to the increase in distances players can throw a driver, and due to the fact there is greater usage in parks, design has become more important than it might have ever been before. The evolution of disc golf course design is occurring rapidly also because regular players are demanding more complex and challenging designs, as newer model discs continue to outperform older models in accuracy, variety of shots that can be thrown, and shot shapes that can be achieved.
The continued need for beginner courses and simpler smaller courses is also increasing significantly as the game becomes even more popular. While disc golf may be on its way to becoming an Olympic sport in the next decade or two, it is already engaging over 200 colleges around the country in competition.  The need to offer disc golf in more community parks is greate
r than ever so that children and families are given more opportunities to play.
The design of these future community courses needs to consider many variables, as these courses may co-exist with other park amenities. 56% agreed holes near walking paths, playgrounds, ball fields, or other park amenities are the most common type of hole, and 74% believe that those types of holes present the most risk (survey by ParkedDiscGolf.org)  The second greatest risk was holes too close to each other. So why are most parks departments not hiring designers with expertise who understand what types of distances are needed to create safer courses? Probably because historically, these types of courses have been designed for free by players or budding designers who lacked experience. The impressive thing is that disc golf is still a very safe game with a very few isolated cases of injuries caused by discs. Even so, the best designs today are achieved by following design concepts which eliminate or greatly reduce risks from going into areas of other uses.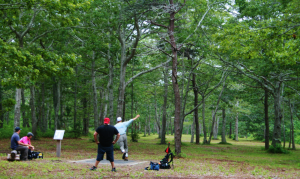 There is money in parks budgets for disc golf. Multiple senior disc golf course designers have now designed courses where cities have budgeted over $250,000 toward the disc golf course alone. Some designers have worked on multiple budgets that are as high as $500,000 and a several have worked on projects with even higher budgets. Those types of courses are projects where disc golf course designers are working with landscape architect firms, engineering firms, or general contractors to build some of the best courses. These are courses where parks are willing to pay for the results.  Parks are beginning to understand that the courses with better design and construction will bring in greater results. They are also considering the popularity and the future growth of the sport. These parks and recs want to invest in a disc golf course that will bring them more usage and a bigger return on their investment through healthier lives, quality of life for their residents, and even greater financial benefits to their community.
Disc golf deserves larger budgets, and the parks and recs who already understand this are enjoying the biggest benefit from this fast-growing and popular new outdoor activity.
Written by Dee Leekha, owner and creator of Micro Disc Golf Courses, author of Business Consciousness®, and also the co-founder of Circular Productions, LLC, DBA Houck Design, a disc golf course design company. As an entrepreneur, her business operations focus on uplifting communities and lives through the sport and game of disc golf.
Dee has started a Facebook group called 3DiscGolf for those interested in discussions on safer, smarter, and more sustainable disc golf.
1  https://parkeddiscgolf.org/blog/
2 http://recmanagement.com/feature/201806fe01/13